The Pen Tool is often avoided by new Photoshop users because it can be a little tricky to use at the beginning. It is, however, a really important tool to have in your design arsenal for both drawing vectors and for making selections.
In the previous part of this guide, we looked at how to draw straight lines using the Pen Tool, but in this lesson, we'll look at how to draw curves. You'll learn how to draw
a gently curving open path  (easy peasy)
a close circle path  (easy)
a complex path made from curves and straight points (a bit more tricky, but an essential skill)
Once you've gained an understanding of how the curves work, combined with some practice, you'll soon find yourself becoming a Pen Tool Master!
How curved paths are created
Unlike straight paths, which are simply a matter of clicking once, then picking where you want your next point and clicking again, curved paths are created by clicking and dragging out direction handles. The first time you click and drag, you set a starting point for the curved path and importantly, you also determine the direction and size of the curve. As you continue to add a point and drag, a curved path is drawn between the previous point and the current point.
Two things happen when you click and drag with the Pen tool.
1. An anchor point is placed on the artboard when you click.
2. Direction lines and direction points are drawn when you drag.
We use the direction lines and points to determine the direction and shape of the curved path we're drawing.
Drawing Curved Vector Paths With The Pen.
Let's start by drawing a gentle curving line.
1. Select the Pen tool (P) from the toolbar. 
2. Choose Path mode in the Options bar at the top of the screen. Note that we could use Shape mode here, but in that mode, Photoshop fills the path with colour when you start drawing and it can become confusing as to where your anchor points are. I'll talk about drawing shapes in another post.
3. Click once to put down your first anchor point.
4. Move your pointer to the right of your first anchor point, then click again and drag up and to the right. This creates a slight curve in the path and as you can see, two handles appear either side of the second anchor point. These are the direction handles and the control the direction of the curve and the size of the curve.
5. Add another point farther to the right and click and drag in a downward direction. You should now be seeing a nice gentle wave-like path.
6. Add one more point to the right and drag out horizontally.
7.To finish drawing your path, just Ctrl + Click (Windows) / Cmd + Click (Mac). Notice how the Pen Tool cursor changes and a small asterisk appears. This indicates that when you start to draw again, you will be starting a new path.
How to draw a closed circle path with the Pen Tool
A closed vector path is simply a path where the first anchor point is the same as the last vector point, for example, a circle, a rectangle, a star. We'll draw a circle.
1. Select the Pen tool (P) from the toolbar. 
2. Choose Path mode in the Options bar at the top of the screen.
3. Click and hold and drag the pen tool pointer upwards. In this example, we're creating an upward curve.
An anchor point appears where you first clicked and two direction lines extend above and below the anchor point.
4. Continue the curve, by clicking to add a new anchor point and holding and dragging downwards.
If you make a mistake while you're drawing, choose Edit > Undo New Anchor Point or press Ctrl +Z (Windows) or Cmd + Z (Mac) to undo the last point you drew, and try again.
5. Move your pointer over your first anchor point and notice how a small circle appears below the pen tool cursor. This indicates that if you click on the first point, you will close the path. So go ahead and click on the point.
Your path is now closed and you should have a near perfect circle, or at least a reasonable elipse shaped path.
Remember you want to use as few anchor points as possible to get smooth curves when drawing with the Pen Tool.
Tip: If you hold down Shift as you click and drag, you constrain the slope of the directional line to 45° increments.
Combining curved and straight path segments with the Pen Tool.
Now we'll draw paths that combine straight corner points with curved or smooth points. Curved anchor points have directional lines that are opposite each other, 180° apart. Corner points either have no directional lines, only one directional line, or two directional lines that are at an angle that is not 180°. ( A little bit confusing, I know!)
Probably the most difficult part of drawing with the Pen Tool in Photoshop is joining up two curves on a corner point. If you can do this, then you can do any type of drawing with the Pen. For his exercise we're going to draw the path below.
1. Select the Pen tool.
2. We're starting with a straight segment, which is dead easy, so click once for your starting point (don't drag) and then click again to put down your second anchor.

3. Now we're going into a curve. Move the pointer over the second anchor point and hold down Alt (Windows) or Option (Mac), the cursor changes to show what looks like an upside down "v". This indicates that you are going to convert the point from being a straight point to a curved point.
4. Click on the same point and drag upwards in one motion to start the curve.
5. Then click and drag downwards to create your next anchor point and finish the curve you started.

Now we need another curve. However, you will find that if you simply click and drag a new point, the curve is going down.
6. To prevent this happening and have our curve go up again, we need to start a new curve by holding down Alt / Option + Clicking on the last anchor point.You will again see the little upside down "v". This basically resets the curved point to a straight point.
7. Click on the anchor point again and drag upwards to create a second curve going up. It will look as though you have dragged the new handle over the previous handle.
8. Add a new anchor point and drag down to finish the second curve.
9. Repeat step 6, 7 and 8 to create a third "upwards" curve.
10. To finish up, we need to convert from a curved point to a straight point. Once again, hold down Alt / Option and click once on your last anchor point.
11. Click again to put down your last anchor point. You should now have made a path that looks like this;
12. Ctrl / Cmd + click anywhere to complete the path.
You've no successfully joined straight and curved segments in a path drawn with the Pen Tool. This is the hardest part of drawing with the Pen Tool and the one you need to get the most practice with.
There is, of course, lots more to learn about the Pen tool, but at this stage, lots of practice combining straight segments and curves will turn you into a Pen-jockey really quickly.
A really good way to practice combining curves and straight points with the pen tool is to try drawing the outlines of letters. Start with easy ones like I and Z, then try lowercase T, S, P and so on. This is an exercise I give to my classes and they find it useful.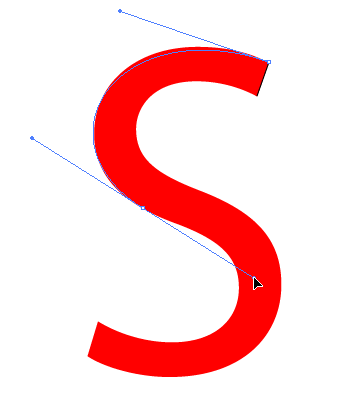 I hope you've found this tutorial on how to draw curves with the Pen Tool in Photoshop useful. There are more Pen Tool tutorials coming!
I'd be really grateful if you would share this post. Thank you! 🙂
Pin This!